Pricing Guide 2019
Outside Denmark
Your wedding story begins in the morning; getting ready with your loved ones, sharing a glass of champagne and nervously laughing and smiling together as the feeling of surrealism hits you, this day has finally arrived.
This feeling continues as you lock eyes with each other for the first time in the aisle, hearts beating fast, full of joy and anticipation as you hold each other's hands and say your I Do's, whilst your family and friends are cheering as you share your first kiss as newlyweds.
When you take a deep breath as you embrace your best friend because you FINALLY married them and you feel like luckiest person in the world to have these warm, comfortable arms around you.
When you look around and see your family and friends all there to share this moment with you. And you hug each one of them, overwhelmed with all the love and support they have for you. And the story continues as you laugh during their speeches because they share otherwise forgotten anecdotes of teenage mischief or drunken accidents, and you cry because it's okay to cry too. It's okay to miss someone on your wedding day.
And you are relieved when you see you didn't have to worry so much about table 5 because they are having an amazing time together, and you realise you aced the seat charting. You drink wine, eat amazing food and enjoy your wedding day.
The story continues as Granny hits the dance floor with her wicked moves and you group hug and sing along with your friends to all the songs you used to listen to as teenagers! Wonderwall anyone?

All these moments are important. These moments make up your wedding day, they're your wedding story and I would love to capture it. I don't just want to photograph what your wedding looked like. I want to photograph what it felt like, so in many years from now when your hair is grey and your hands are beautifully wrinkled, you can cuddle up on the sofa and open your wedding album to relive your wedding day like it was only yesterday.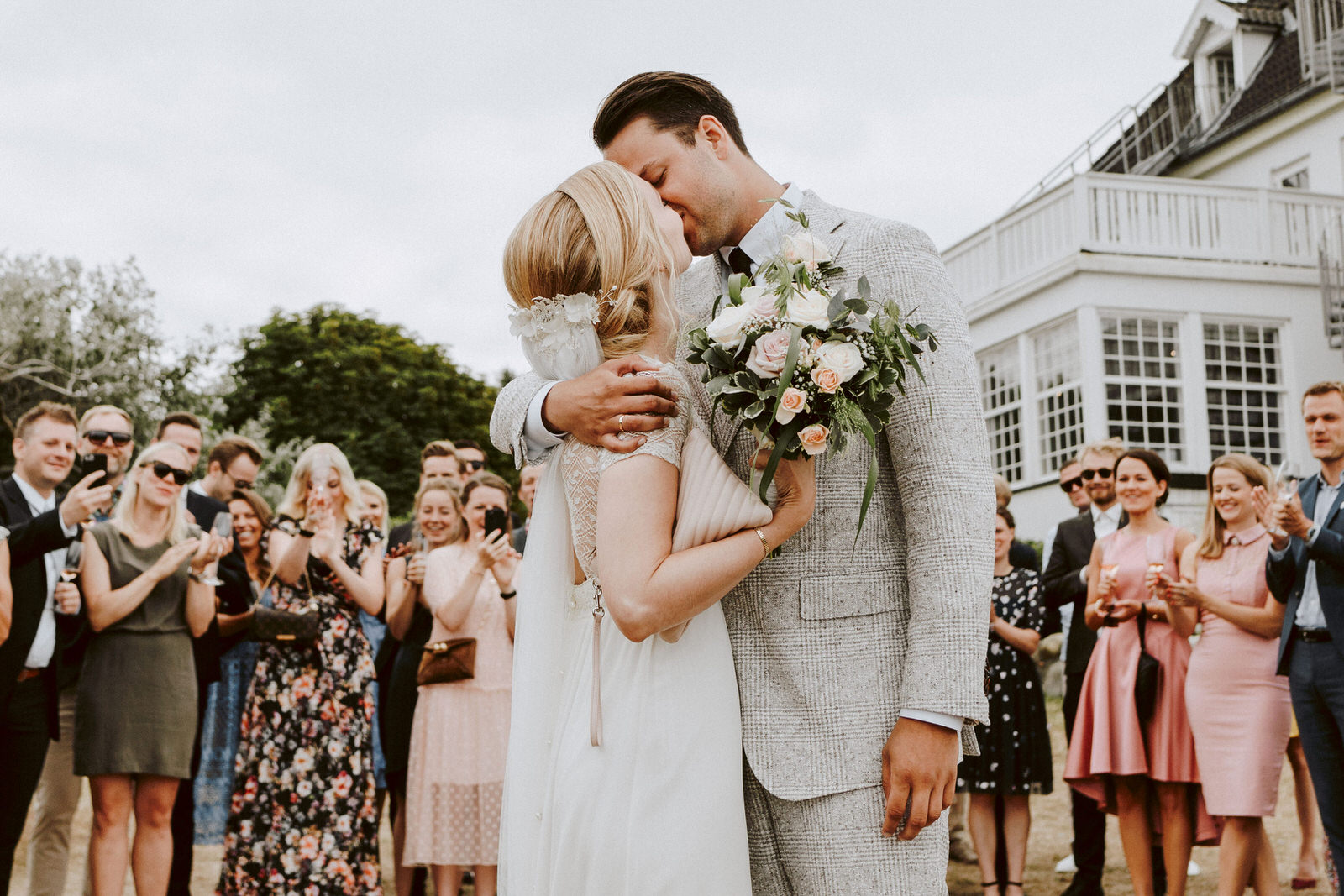 Every wedding is different and therefore I don't work with a fixed set of "wedding collections"
- but allow you to design the "collection" that's
right for you.
I would love to go through your day with you, help you set up a timeline for the day that can help you decide how many hours of coverage is the right amount to tell your unique wedding story.

Wedding day coverage starts at 15.000 DKK
and includes 6 hours of photography on your big day.

Add additional hours for 1.200 DKK pr. hour.

Included:
♥︎ A minimum of 50 images pr. hour of wedding day coverage.
Example: 6 hours coverage = a min. 300 images, 12 hours coverage = a min. of 600 images.

♥︎ 1-2 consultations either in Copenhagen or via Skype, where we get to know each other, and I help with the timeline for the day, and any other advice you might need about planning your wedding.

♥︎ All delivered photos are edited with the distinct style of Carolina Segre Photography. Images are in high resolution and ready for print.

♥︎ All photos delivered in personal, password protected online gallery that you can share with friends and family.
Please note:
*For full day weddings that take place more than one hour from Copenhagen – an overnight fee is added to the total fee. *Transport within Denmark is 4 DKK pr. Kilometer.
*For international weddings an agreed fee for travelling + accommodation will be added on top of the package price. *Your booking is confirmed and completed once I have received a signed contract and 50% of the total fees.
Add a 'Pre Wedding' or 'After Wedding' session for 2.500 DKK